ios14 homescreens ideas/inspirations – how to
I have been using my iPhone since 2014 and I can't just let go of this amazing brand, Apple! As a millennial, I agree their innovations are kind of limited these days but I definitely love how they strive to get perfection. I somehow feel that the brand knows what their customers need and it does follow the "in" trend. Currently, everyone is obsessed with everything to be aesthetically pleasing. We did see that phase when Instagram upgraded their software. As a result, the new IOS14 homescreens are the top trending in socialmedia.
But, this is something I personally loved and it just makes my homescreen so pretty adorable. So here I am sharing my homescreens and also I would like to insert some of my inspirations.
How to get the new ios14 homescreens
I did dig into Twitter and Tiktok for these so the content is original.
Before we get into the inspiration part, here's how you can do it.
Please update your software. It took me ~1hr to fully download and update.
Decide the theme you are going for.
It is also a good idea to declutter your existing apps.
Download "shortcuts" app from the appstore.
Download "Widgetsmith" app from the appstore.
How you can change the app icons – customize the existing app icons by following the below steps
Open the Shortcuts app
Hit the "+" icon in the upper right corner of the screen.
Hit "add action".
Type in Open App in the search bar
Tap Open App
Tap Choose
Hit the app icon
Then, when the drop-down menu comes up, you'll be able to Take Photo, Choose Photo, or Choose File. Pick the option that contains the new image.
Pick the new image.
Rename the app.
Hit Add
Hit Done
The fact is, it is a pain. if you want to do it for all the apps.
Also, the biggest downside is that you will always be taken to the shortcuts app before opening the actual app. This may not irritate you if you are not using those particular apps (utilities like ruler, calc etc.,) but it will get you on nerve while using the apps like TikTok or Instagram. The most used apps needs to be carefully chosen to create shortcuts.
The trick – you can go to accessibility settings and turn on the motion decrease – this decreases the transitions from apps to shortcuts.
Now that you have all the shortcuts ready, open the widgetsmith app. Create your widgets, I created mine to use only photos as I was not interested in clock/calendar.
Go to your homescreen, double tap any app to rearrange/delete apps.
On your top left, click the + button, in the list go to the widgetsmith app and select your widget, place it on homescreen. I have included a video below on how to do this. check that out.
Some more inspiration below…
done with my homescreen #iOS14 pic.twitter.com/qeL4RjA95p

— penelope 💛 (@penelopem_) September 19, 2020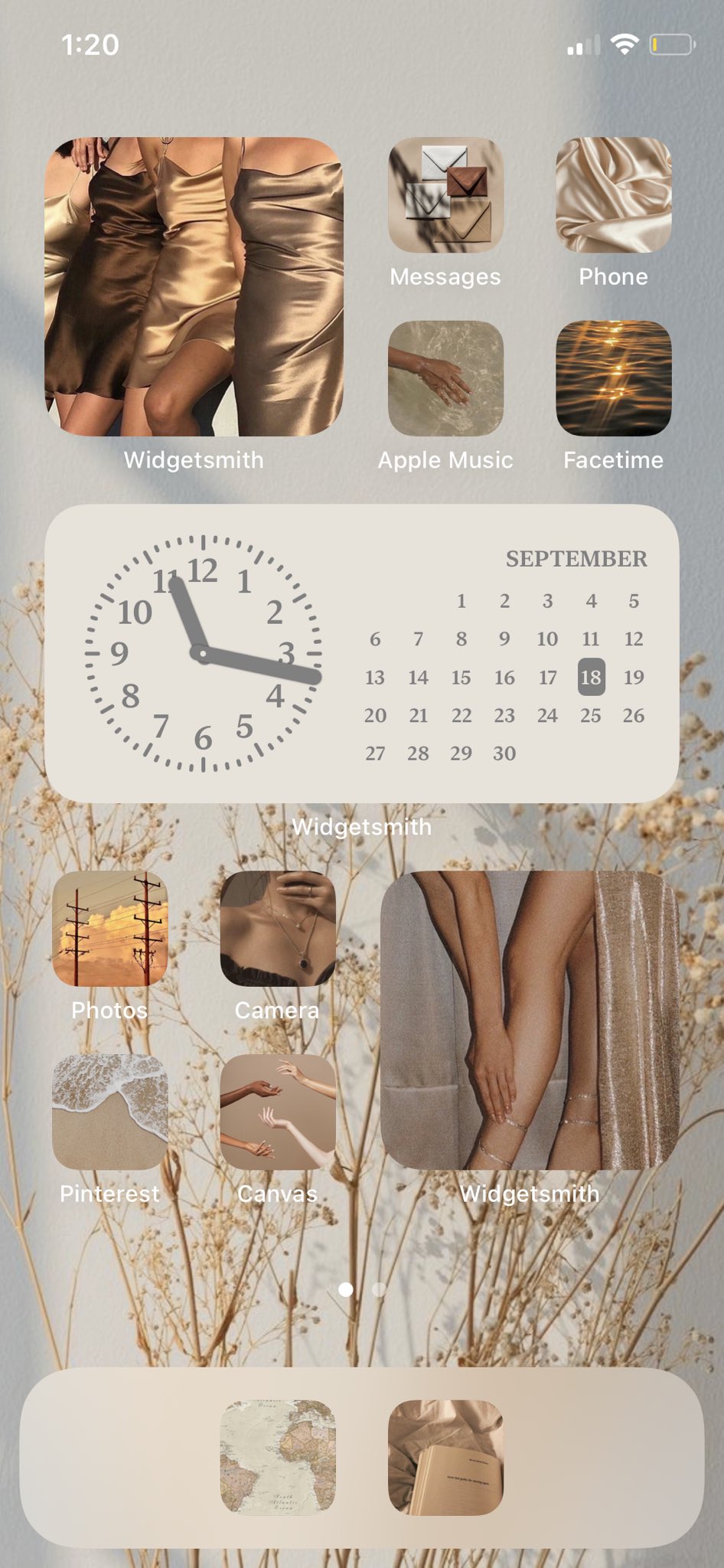 ok my so malas updated ios14 home screen ahahahah pic.twitter.com/za5YAUeLmR

— 𝓶 𝓭 𝔁 𝓷 𝓼✨ (@iddierah) September 23, 2020
Okay I did the IOS14 Home Screen 🙆🏼‍♀️ pic.twitter.com/GDUMs219Lb

— lilnasty✞ (@tnynmel) September 23, 2020
Finally finished my home screen <3#ios14homescreen #ios14 pic.twitter.com/s1HbmbFxF5

— ellie🌻 (@mishxvoid) September 20, 2020